The essence of a Destination Business is that it can exist anywhere. It's not location dependent, it can defy its demographics, and it has the ability to pull customers from hours away.
But honestly, when I found a Destination Business in Mildred, Kansas (population 28), and met the owners, Regena and Loren Lance, even I was a little surprised.
Originally owned by Charlie Brown and Lucy
Originally called Charlie Brown's Store, the store has been part of Regena and Loren's life since they were kids. When Regina was growing up, she would collect pop bottles, turn them in to Charlie Brown's, and choose a toy from the store with her earnings.
Charlie Brown's Store was owned by Charlie Brown and his wife, Lucy. (I am not making this up)
"Charlie Brown's has been a staple in this community since I was a kid," said Regena. The store served Mildred from its boom days at the turn of the 20th century, through the Great Depression, and down to present day with groceries, televisions, kitchen appliances, deli sandwiches, and even Model A's and Model T's.
A Teacher and a Farmer become Retailers
Regena, a teacher, and Loren, a farmer, bought Charlie Brown's, even though neither had any retail experience. They decided to buy it when the store's survival was at risk. Regena related how one night, she needed eggs for baking and she didn't want to drive a half-hour to Walmart, so she asked Loren about buying Charlie Brown's. As it turns out, that same thought had just crossed his mind. That was May 2014, and by June 1, they'd bought the store.  The next day, they opened up as retailers, with the store renamed as the Mildred Store.
New Rules for Independent Businesses
I first met Regena and Loren when they attended my "New Rules of Business Success" workshop. They spent two days with me in Marion, Kansas with 80 other owners and community leaders learning how to make their business a Consumer Destination and during the breaks, Loren would come up and tell me a little more about their store.  By the time I'd finished my class, I had to see the Mildred Store in person.
Deli, Post Office, and Popcorn by the Bag
When you visit the Mildred Store, you'll see how Regena and Loren have kept the feel of the store and much of the original equipment. There's a fully stocked deli counter where they make the famous Charlie Brown deli sandwich (a longtime worker taught them how to slice the meat and stack it just so). There's a TV over by the cold drinks and chairs to watch the local game on cable. The post office for Mildred is in the front corner of the store, (next to the produce section, down from the popcorn machine), and all around the store's upper shelving are antiques and memorabilia from the town's history. People come from miles around for the memories, the ambiance, and the longhorn and liver cheeses, signature items that even Walmart doesn't carry.
Does Your Grocery Store have Country Music Concerts and a Dance Floor?
But what really makes this grocery store unique is the adjacent room which was formerly a repair shop.  Regina and Loren transformed it into a music hall with a dance floor and started hosting country music nights once a month. That room can hold 250 people and for those who don't dance, church pews line the back of the room.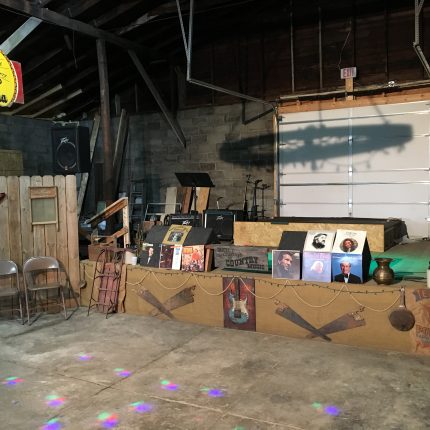 Nationally-Recognized Award Winning Grocery Store
The Mildred Store made the front page of the Kansas City Star newspaper in 2017 after being named National Small Town Grocery Store of the Year by the Huck Boyd Foundation at the National Rural Grocery Summit.
The Lances open the store even on holidays, with surprising traffic on Thanksgiving, Christmas, and New Year's by people who forgot to stock up on Cool Whip or some other last-minute item.
"Just being there for the people is the key," Regena said. "Neither of us came from the grocery world. The mindset of the whole thing was we knew we were never going to be rich off of it. It was to provide a service to our community that really needs it."
The Mildred Store's a true Destination Business. It's unique, it's authentic, and it's filled with one-of-a-kind products providing generous customer service by two people who love their town.
Worth a look, worth a trip
Learn more about this great store by going to their website at www.themildredstore.com. Or better yet, go see it. It's worth the trip.
Thanks, everyone.
Jon Schallert